I have always loved Greek Mythology, the stories of Gods, Goddesses and Titans. The ancient myths and magical teachings of ancient Greece have always captured my attention evoking Images of Zeus and Apollo frolicking with Aphrodite. And so here in a quiet enclave of mainland Greece sits Miraggio Thermal Spa resort, perched on the Aegean Sea under the watchful gaze of Mount Athos, where I arrived as a mere mortal but left feeling like a Goddess.
Kids and Adults both rule their roosts at Miraggio. While it is clear that it is an extremely kid and family friendly hotel, it seamlessly manages to keep an air of 'Adult Only' to it. It is as though the kids and the adults co-exist but in alternate universes. There is a completely separate kids area, complete with classrooms, playgrounds overlooked by the adults' playground – archery, football, netball and tennis courts. The Myrthia Thermal spa is one such sanctuary. If you are not 16 or older you may retreat with your tail between your youthful legs…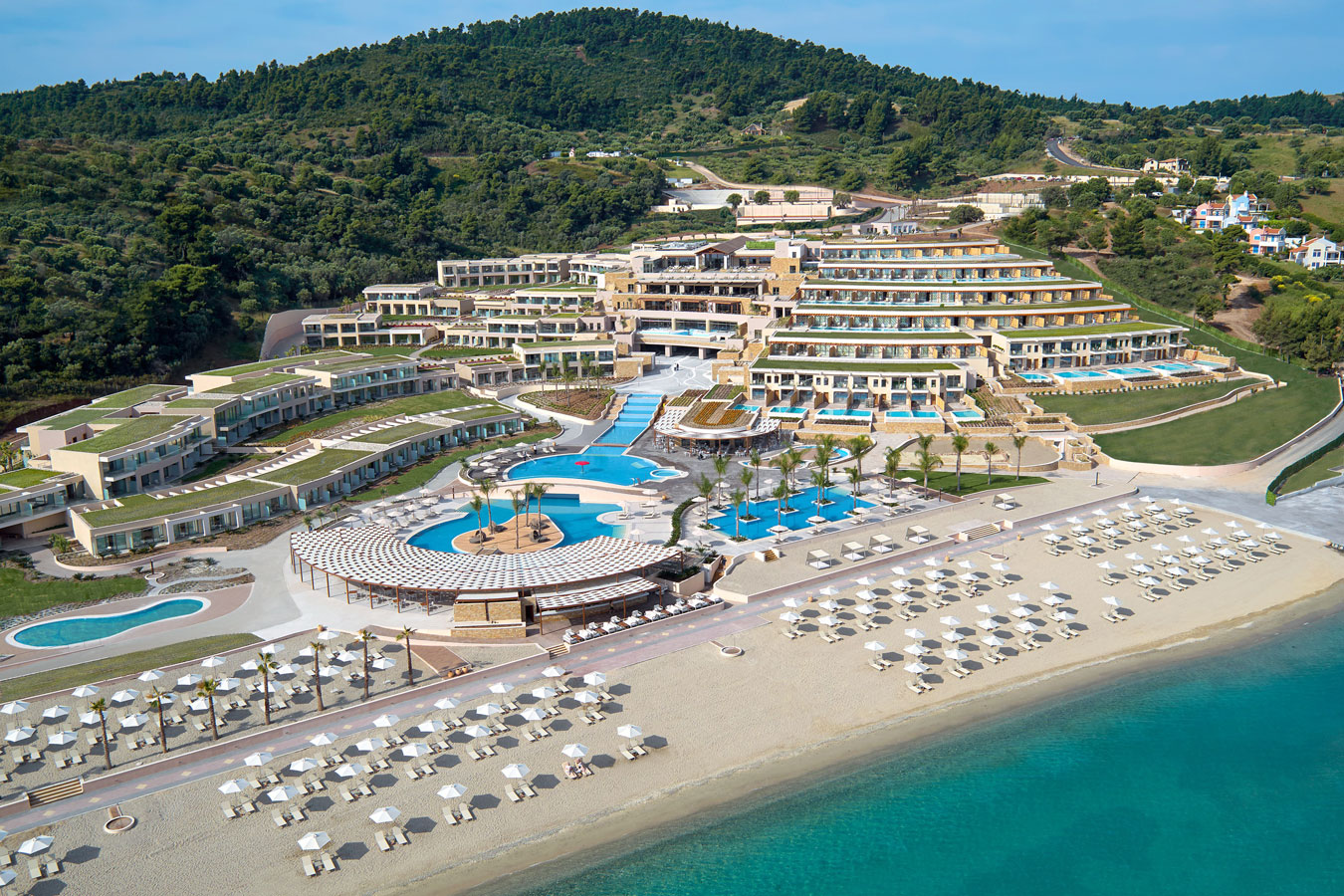 The Spa:
The Myrthia Thermal spa is like ancient Greek Mythology, fascinating and feel-good.
In Hippocrates writings, there is frequent mention of Myrtle, the symbol of love and immortality. And thus the Myrthia spa was born – as an ode to the Greek passion for wellness, love and longevity. Local water is sourced for the spa treatments, and the Signature 'Water Journey' is a must. It is made up of the spa's central heart – a huge thalasso pool on 32°C with 15 hydro jets. The pool leads outdoors to 4 contrast pools, each containing thermal source water pumped directly from a source below the spa at 32°C. The mineral rich water treats skin and musculoskeletal disorders, so just plonk yourself all day on one of the submerged water loungers, and order healthy bites from the Health Bar. Once you've gorged on coconut, chia and banana smoothies, head to the thermal well-life suite. The suite houses cold and hot experiences – a Steam room, a Finish Sauna, two individual experience showers with lighting effects in combination with cold and hot water jets to promote relaxation and stimulate the senses, a cold plunge walking path, a herbal sauna and a Tepidarium. I followed my water journey upstairs to one of the treatment rooms, and had an Algoane Crystal Peeling treatment with flower oils. Scrubbed to within an inch of my life then showered, leaving the most divine oily glow. My face felt pretty left out of the whole affair so, an Algoane facial was a must to placate it. I had the Hydrating Traveller, with Shiatsu inspired massage movements, nourishing creams and repairing mask, which left me feeling like Aphrodite.
The Food:
In Greek Mythology the cornucopia is the horn of plenty, a symbol of abundance and nourishment. And that is exactly what the Kritamo restaurant offers. The hotels main restaurant offers one of the best buffets I've ever had the pleasure of indulging in. Local and handpicked ingredients are found in a cornucopia of dishes and the choice is almost overwhelming. Best of all, the menu changes daily. How the chefs conjure up such a wealth and variety of exquisite unique dishes every day truly amazed (and filled) me. To choose a dish would be foolish, try everything… and then reload your plate…again and again.
There is Portofino, a fine dining Italian restaurant, as well as the Seafood restaurant Torneo where fish tastes so fresh it must have just flapped in from the Aegean. Lighter bites can be had at the Oasis Pool Bar and the Oasis Pool Brasserie offers a wonderful a la carte menu including a healthy section devised by nutritionist Amanda Hamilton. Try the grilled octopus, watermelon salad with goat cheese, and linguini with lobster in tomato and celery sauce. If you feel you have indulged too much, make up for it at breakfast, where you will find a new "Healthy Corner" with fresh organic fruits, smoothies, and juices, gluten-free and bio products, honey from a native beekeeper, traditional Greek yoghurt, local delicacies and more, much more.
The Room:
We chose the junior suite with a private pool and sea view. And what a view. Even from the shower – a large cubicle with floor to ceiling glass – you can see straight through the bedroom and out to the delicious vista: the private pool, the clear blue Aegean and Mt Athos in the distance. Showering never felt so indulgent, with a marble seat and powerful showerhead in the ceiling. Large cream leather headboards watch over comfy beds, and should you be particular about how you sleep, there is a mattress and pillow menu, permitting you to tailor a perfect nightly slumber. The staff are always on hand and eager to help, even late in the evening when we decided we wanted a last minute mattress change. The rooms are kept impeccably, not to mention the rest of the hotel. Not once did we see a speck of dust on any of the marble floors and long corridors. We could easily have eaten our sweet Greek delicacies off the floor. Each room comes with a large Nespresso coffee machine, a coffee lovers dream, and a daily replenishment of coffee pods ensure you stay awake long enough to watch the beautiful sunsets and enjoy the nightly entertainment.
Don't miss:
Miraggio Watersports located on the beach. There is a huge range of fun equipment for the adrenaline and adventure junkies among you. Try flyboarding, wakeboarding, inflatables, stand up paddleboarding, canoeing, jet skiing and there is also the option to rent a speedboat for the day.
Bottom line:
There is no myth here, just plain truth. Miraggio is a God and Goddesses' dream hangout.